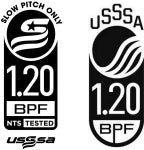 USSSA Slowpitch Softball Bats
USSSA Slowpitch Softball Bats are used in leagues and tournaments by players of all ages. There are 2 Bat Stamps & Standards for USSSA Slowpitch Softball. While both say 1.20 BPF they have different compression standards:
220 lb Compression: 2014 "Thumbprint" (Above Right)
240 lb Compression: NTS Tested Slowpitch Only (Above Left)
Moving forward only bats that meet the 240 lb Compression can be made. Currently the 2014 "Thumbprint"(220 lb) bats are still LEGAL for USSSA Play.

The other Associations to consider when you shop for a Slowpitch Softball Bats are USA (ASA), NSA, and Senior Softball. Need some Help? Contact us or Check out our Bat Certifications Guide. If you're looking for Deals check out our PRICE DROPS.